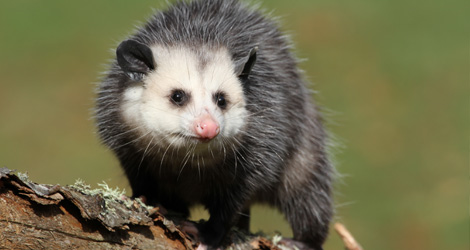 Are there possums residing inside your property? Is there a possum family in your attic or yard? If yes, Tillsonburg Wildlife is here to assist you. We have a team of licensed and insured possum control experts who are trained to remove the notorious possum infestation from your residential and commercial property.
Being your locally owned and operated animal control company in Tillsonburg, we pride ourselves on providing an effective and long term possum removal service. No matter, you own a home or office, we are committed to turn it into possum-free premises. By utilizing the safe and eco-friendly products, we make sure you don't have to deal with these little notorious creatures anymore.
Signs of A Possum Infestation
Noise: They create unusual and weird sounds that seem like someone is walking around, scratching the walls or thumping in the attic, particularly at the night.
Droppings: The presence of urine, feces and droppings in the attic or yard is a sign indicating the presence of critters. Possum droppings are half the size of cat droppings.
Clutter: The appearance of cluttered leaves, garbage, compost, debris and trash cans inside the yard, exteriors and interiors is a sure sign of possum invasion.
How We Can Help?
At Tillsonburg Wildlife, we are your local possum control experts in Tillsonburg who are focused to provide a customized approach to possum removal. Once you call us for service, our team will reach your place with fully equipped service vans. We'll inspect your premises for any signs of wildlife infestation. After identifying the animal, we'll follow a specific wildlife removal strategy to ensure:

Humane trapping of possum
Safe removal of the animal
Preventing future infestation
Decontaminating the area
What Makes Us Different?
Our team of licensed wildlife controllers is fully equipped with the tools and products needed to handle any minor to complex possum invasion. With years of experience in the industry, we have managed to earn a positive customer reputation by offering high reliable residential and commercial possum control in Tillsonburg to ensure peace of mind. Some features that make us different from our competitors include:
We provide guaranteed wildlife control.
We seal the possible entryways and holes.
We serve residential & commercial clients.
We offer safe & humane possum removal.
Call Us To Schedule A Possum Removal Service!