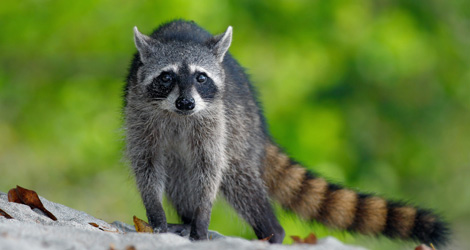 Raccoons are commonly found critters that can be often noticed moving around in a yard or property. These creatures love to reside in either your home's chimney or attic and usually invades a residential property during the early spring. They are extremely destructive and can even rip off the shingles, chimney caps and cause many other damages.
At Tillsonburg Wildlife, we are your local wildlife control service providers offering humane raccoon control service to both residential and commercial properties. Our team of wildlife control experts in Tillsonburg is licensed and skilled to remove not only a single raccoon but its entire family. We utilize the eco-friendly products and install fences to prevent the risks of future invasion.

Sure Signs Of Raccoon Invasion
Before calling a raccoon control professional, its important to make sure you are really having a critter habitat on your property or not. For this, there is need to look for some sure signs that depict there is a raccoon family residing inside your property. Some of the common red flags include:
Unusual, loud and scratchy noises coming in the middle of the night.
If you hear chirping sounds, chances are there is a nest of raccoon litters.
You can even hear these chirping and scratching noise in your fireplace.
Look for damage on your roof, and siding along with the exteriors walls.
Raccoons In The Attic & Chimneys
Raccoons are good climbers that can easily climb on the trees and roof to gain an entry inside an attic or chimney. Even a small opening can turn up as a good deal for them and they can easily rip their way into a cozy attic. These animals are responsible for tearing up the insulation, ductwork, or even damaging wiring. Moreover, the raccoon urine and feces are contaminated with bacteria and other disease causing microbes that can deteriorate the health and hygiene of a family.
Why Choose Us?
At Tillsonburg Wildlife, we pride ourselves on providing highly effective and performance oriented raccoon removal services in Tillsonburg. We follow the latest and safe exclusion methods to deter the raccoons away. Some reasons to choose us include:

Licensed & insured exterminators
100% satisfied animal control
Reliable & long lasting results
Humane methods & green products
Call Us To Schedule A Raccoon Control Treatment!