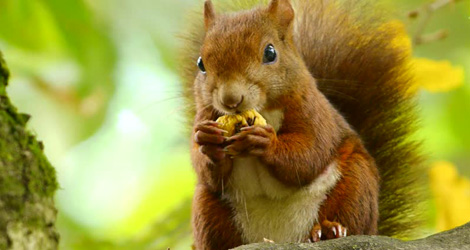 If you are constantly hearing scratching or thumping noises from your attic, there is a definite possibility that you have squirrels in your attic. Squirrels might appear cute and calm but they are capable of creating immense damage to your property. They can easily take up residence at your place and breed there.
At Tillsonburg Wildlife, our professionals will help eradicate these critters quickly and permanently. We will perform a complete inspection of your home or property and locate all possible squirrel entry points that squirrels may use to gain access into your home. We perform safe and humane squirrel removal and control methods in Tillsonburg and also ensure that after treatment they don't come back.
Squirrel Nuisance Concern:
They nest in trees, attics, or other warm places in a building
They like warm, safe places
Can enter attic through loose boards, vents, loose or broken tiles or eaves
They chew on wood and wiring in the attic
Squirrel Control Methods
Squirrels are smart and are often found in residential areas. They find great food resources and shelter in homes. And in order to make your home 'theirs', they damage your property which is sometimes beyond repair. When squirrels start to create trouble for you, your family and property, it's time to call our professionals. At Tillsonburg Wildlife, we make sure your home is squirrel-free with our effective and proven methods. We have been doing this for the past many years now and know which technique will give you the best results. Here are some tips that you should follow in order to keep these critters at bay:
Cut shrub divisions that may overhang the top line of the building
Eliminate fire wood placed against the building
If there are breaks in the fundamental wall of the building, repair them
Closure off access points
Why use Tillsonburg Wildlife for squirrel removal in Tillsonburg, ON?
We offer proven, effective and dependable strategies.
We know how to get the job done right the first time.
Achieving 100% customer satisfaction is our motto.
We always stand behind our work.
We have professional and experienced staff.
Inspection, treatment and follow-up – we do it all.
Protect your home from uninvited guests by contacting Tillsonburg Wildlife Services today for your free quote!